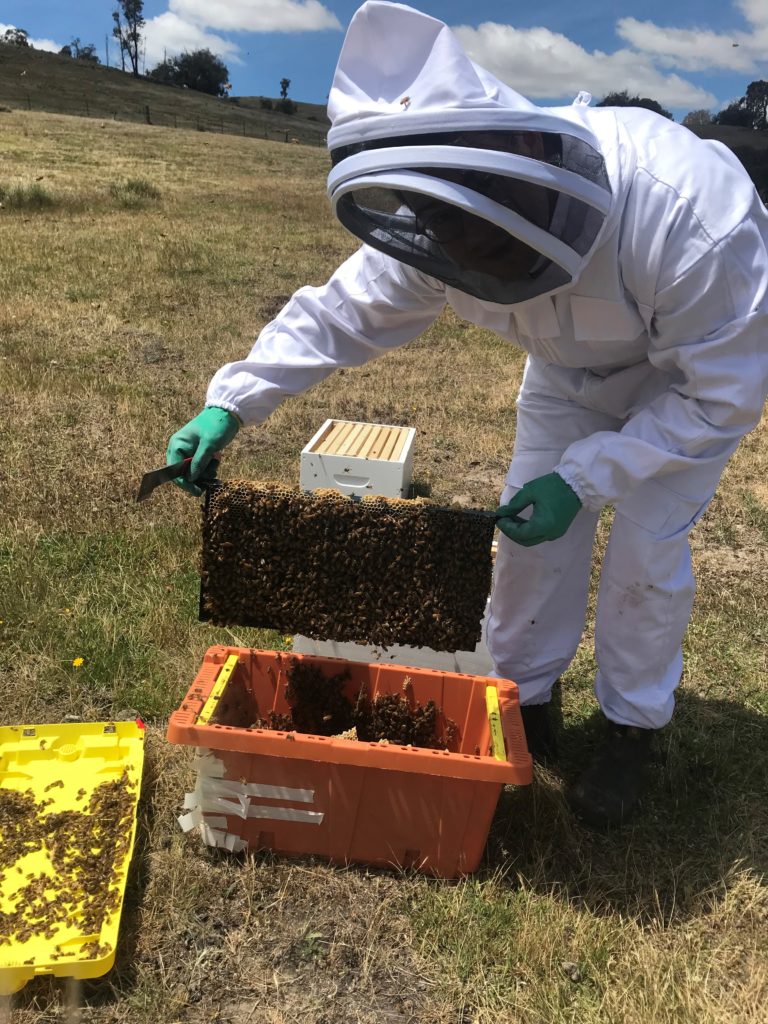 Bees come to Markdale
We were very happy to welcome our first beehive last week!
Before the sun broke on Sunday our novice (but registered) beekeepers closed the nucleus box full of bees and drove from Sydney to the property. The ideal locations for the new hive were scouted – the bees need to be close to water and of course flowers. After careful consideration a decision was made to put the hive in the ram paddock behind the the homestead. As you can see from the photos this vantage point gives easy access to both the lake and the wonderful flowers in the garden. After allowing the bees to acclimatise to the environment for a few hours the queen and her colony were officially relocated into their new hive and left to settle in.
At Markdale we understand that bees are a critical part of our ecosystem and are integral in agricultural pollination as well as food production. Unfortunately however the global population of bees is in decline. Australia is experiencing the same issue very acutely at the moment given the drought conditions ravaging the east coast of Australia and the devastating bush fires. Our hope with our little hive is to increase the population of bees on Markdale Station, produce honey for our family, friends and guests and raises awareness about the positive impacts of bees on the environment.
Our bees were purchased through the Urban Beehive based in Matraville – we'd like to thank Doug and Vicky for their help and crash course on transportation! We'd encourage anyone who wants to find out more to visit their website (https://theurbanbeehive.com.au/).