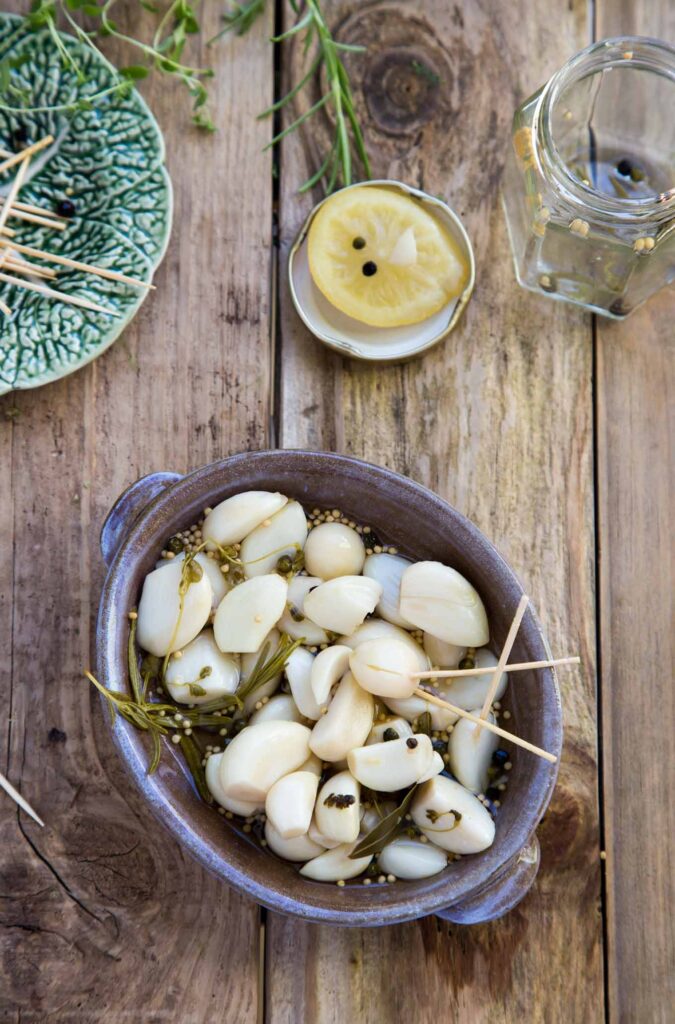 Recipe – Pickled Garlic
Homegrown garlic is beautiful to have on hand and after the bulb is dried will last for many months. However, this year we also decided to pickle some of our garlic to extend the life a bit longer.
This is an easy recipe that can be easily adapted depending on your preferred herbs or flavours – the key is to keep the pickle in the fridge. Once ready the garlic is perfect in pasta, with roasts, on antipasti platters (for the game) – basically everything is better with garlic!
Ingredients
1/4 cup canning salt
2 tablespoons caster sugar
4 cups white vinegar
1 cup water
1kg fresh garlic peeled
Crushed chilli flakes*
Fresh dill
Whole peppercorns
 *Note: any herbs or spices can be used in place or in addition to chill / dill. Bay leaves, mustard seeds, cumin seeds and rosemary are just some examples of additions.
Method
Combine canning salt, sugar and vinegar in a large saucepan. Bring to boil; reduce heat and simmer 10 minutes.
Meanwhile, add spices and herbs to sterilized jars*. Then pack peeled garlic cloves leaving about ½ – 1cm of headspace.
Using a ladle, divide hot pickling liquid between the 4 jars, leaving 1/2-inch of headspace. Tap the jar gently on the counter to help release additional trapped bubbles, clean jar rims,  and close lids.
Allow to cool to room temperature and then chill in the refrigerator for at least 3 weeks before opening. Can be stored in refrigerator for up to 4 months.
*The jars can be sterilised a number of ways (google will help) – we found heating them in a 120 degree oven for 15 – 20 minutes the easiest.