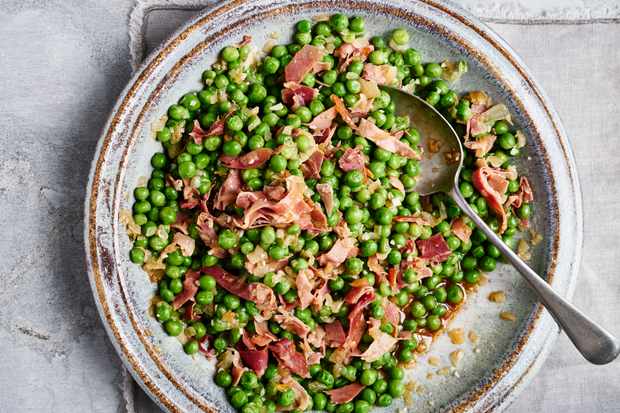 Recipe – Braised Peas
One of the joys to come out of the Winter veggie patch were our fresh baby peas. Sweet and crunchy they were good enough to simply shell and eat raw. We wanted however to share an 'unusual' side of dish of peas and lettuce that is popular in France and our table, and goes fantastically with roast chicken or fish accompanied by something white and sharp.
Ingredients
2 – 3 handfuls of freshly shelled peas
1 brown onion (diced finely)
100gms of pancetta (cut into strips) *note that bacon or lardons will also work
1 iceberg lettuce (washed, cored and shredded)
2 cups of good quality chicken stock
Handful of mint
Good knob of butter
Method
Step 1   Melt butter with a little olive oil in a heavy based fry pan over a medium heat.
Step 2  Add onions and pancetta and cook until onions are soft.
Step 3  Adds peas, mix and then add stock and bring to the simmer. Reduce by a third. Season with some white pepper *note pancetta and the stock are salty so there may be no need to add additional salt.
Step 4  Add lettuce and mint. Mix through the warm stock. Cook for 1 min until lettuce begins to welt.
Step 5  Ladle into a serving bowl (including broth) to be eaten immediately.