Pastoral, Politics and Polo
Markdale has been the pastoral home of the Ashton family for three generations. The Ashtons have entertained their family and friends there since 1921, when the new homestead was built with local timber, hewn and sawn on the property and concrete blocks, hand cast on the site.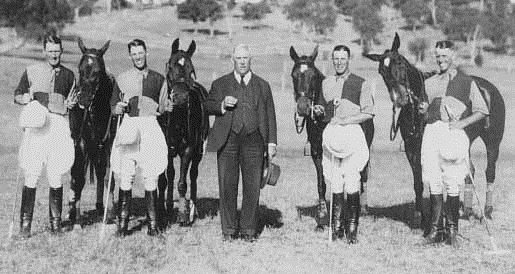 Mr. James Ashton started as the copy boy on the Hay newspaper before owning it, progressed to being Minister for Lands and then went in to business, becoming Chairman of MLC and The Commercial Banking Company of Sydney. He had four sons Jim, Robert, Geoff and Phil, who began playing polo against his wishes, but persuaded by his wife 'that those who play together, stay together' he let them continue. Markdale provided a perfect venue for James Ashton's four enthusiastic polo-playing sons. A polo field and a hitting pit on the property, plus frequent trips, riding and driving their horses the 80 Km to and from Goulburn for weekend matches, helped hone their skills.
In the 1930's, the four brothers shipped their horses to England, the United States and India to compete against top international teams, winning numerous tournaments, including England's Hurlingham Championship and the Indian Empire Shield. Polo was the family passion and the brothers formed an invincible team in Australia retiring unbeaten in 1938.
.