With 6000 acres to yourself there's a lot of walking to do!
An easy walk along the river up the valley (head along the river towards the homestead and keep going), 45 minute Indian Rocks walk to the highest point on the range (click here for a 30 second YouTube video at the top), or the walk up to the old gold mine on the hill behind the homestead.
For shorter walks with small children there is 5 acres of garden to play in or you can take them 5 minutes up to the working shearing shed and play 'catch the sheep' and show them what unwashed greasy wool looks like.
In the evening, just before dusk, take a walk up Slete's Creek and see the wombats emerging, but please don't encourage them to come near the houses, or garden!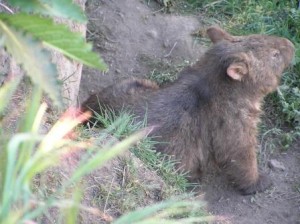 You are sure to see plenty of Kangaroos on your way to look for the Wombats