You can find a list of activities like local fairs and dates on the Crookwell Upper Lachlan Shire website here, to see what is on at the time of the year you're staying at Markdale.
Lindner Sock Factory and Shop is situated in the main str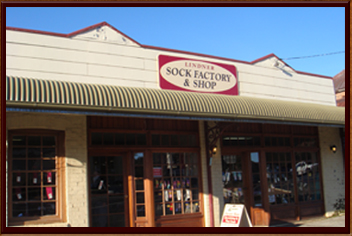 eet of Crookwell. A family owned and operated business, their fourth generation sock-maker produces a variety of sock styles on site, in both wool and cotton. Come and see their machines in action, and browse through their huge range of colours and styles in the Sock Shop.
Mulwaree Caves
You can explore the Wollondilly, Junction, Kooringa and Mulwaree caves on a variety of guided tours, and the Figtree Cave is regarded as the state's premier self-guided cave experience.
Wombeyan Caves
In 1865, Wombeyan became the first area in Australia to be reserved for the protection of caves and there are still structures dating from the early 1900s in some caves.
Wombeyan Caves is an easy drive from Sydney, Canberra and Wollongong, so it's a great place to escape to on a weekend getaway. You can bring your caravan, tent or motor home to camp out overnight or you can book into one of the cabins or the cosy Post Office Cottage. You might find you have some visitors to the campground, kangaroos can be quite inquisitive.
National Gallery in Canberra
Take the Gunning Road from Crookwell and you'll be in Canberra at the National Gallery in 90 minutes door to door from Markdale via one of the most beautiful roads in NSW. Have an art weekend with a difference by staying at Markdale to break your trip to Canberra.