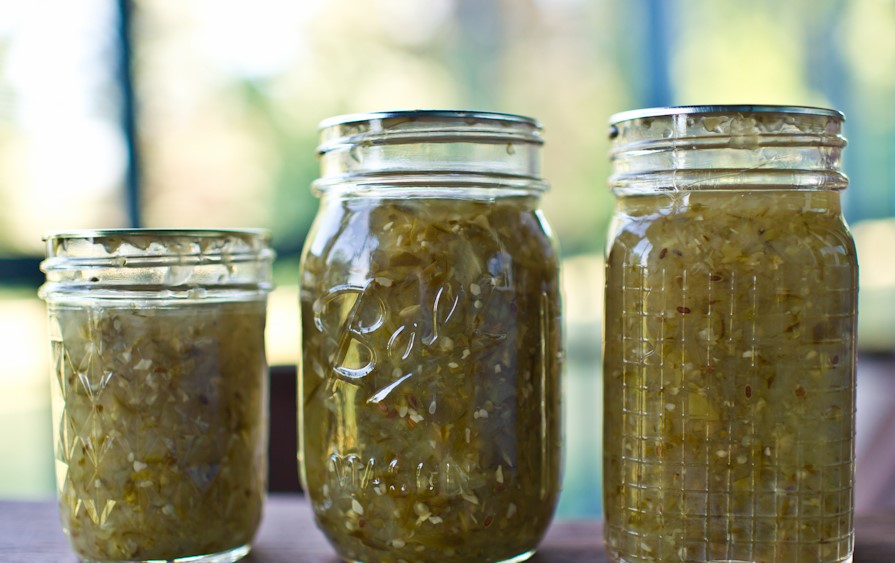 Recipe – Green Tomato Chutney
As autumn approached the last of the summer veggies were removed – including our fabulous and abundant tomatoes. Left with a few kilos of green tomatoes we decided to try our hand at a chutney in anticipation of ploughman's lunches.
Outlined below is our very simple recipe – brought together from various sources and best attempted with a glass of wine in hand. Lots of old jars are required.
Ingredients
2kg of green tomatoes (chopped – cut the small ones in half and the bigger ones into quarters)
*note we used a mix of varieties including cherry, yellow pear, black Russian and mortgage lifter
2 brown onions (chopped)
3 green apples (peeled, cored and chopped)
1½ cups brown sugar
2½ cups of malt vinegar
½ cup of apple cider vinegar
1 tablespoon salt
2 tablespoons of mixed spice
2 tablespoons of mustard seeds (yellow)
2 red chilli (finely sliced)
Method
Step 1  Mix together all ingredients in a heavy based pot.
Step 2  Bring to the boil and reduce to a simmer to between 1 – 1½ hours. The chutney should be thick with very little excess liquid.
Step 3  Spoon the hot chutney into the sterilised jars. Seal. Cool. Refrigerate.
The chutney should keep for 3+ months and will last for up to a month after opening if refrigerated.
Tip
The jars can be sterilised a number of ways (google will help) – we found heating them in a 120 degree oven for 15 – 20 minutes the easiest.